I must have some Italian ancestry somewhere because I have a serious love for Italian food. Seriously…I buy garlic in bulk and I usually cook for two. 🙂
That being said, as much as I love Italian food it can take time and isn't always realistic after a long day. That's why I love shortcut recipes that still pack a lot of Italian punch, such as this Easy Chicken Parmesan. It has all the flavors of of a traditional Chicken Parmesan without all the fuss. You also only need one skillet for the dish and one pot for boiling your pasta. Being able to get such a hearty and tasty dinner on the table in 30 minutes makes this my go-to Italian meal for busy weekdays. Facile e Delizioso!
Skillet Chicken Parmesan
Serves 4
Ingredients: 
1 egg, beaten
1 teaspoon Italian seasoning
1 cup Panco breadcrumbs
2 tablespoons grated Parmesan cheese (the powdered kind works great!)
1 pound of boneless skinless chicken breasts or tenderloin strips
3 tablespoons extra virgin olive oil
1 medium onion, diced
4 cloves garlic, minced
1 large jar (26-28 ounces) of your favorite pasta sauce
Salt and pepper to taste
1 pound of spaghetti or substitute for your favorite pasta, cooked al dente
1 cup mozzarella, shredded
Directions: 
1. In a shallow dish or bowl (large enough to dunk the raw chicken into), beat the egg and set aside. In another shallow dish or bowl, combine the Italian seasoning, breadcrumbs, and Parmesan cheese, and set aside.
Helpful Hint: Any time I batter and fry, I set up a little workstation from left to right, with the hot pan as the last station on the right. I also use my left hand for handling the wet ingredients—picking up the chicken, dunking the chicken in the egg, etc.—and my right hand for handling the dry—scooping breadcrumbs over the eggy chicken, and finally picking up the breaded now-dry chicken and placing in the pan. This keeps mess to a minimum and ensures you have one gooey-free hand instead of two.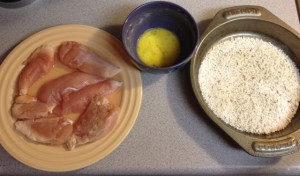 2. Heat your skillet to medium-high heat and add olive oil. If you're working in batches due to the size of your pan, divvy up the olive oil accordingly. Dredge the chicken into the egg and coat generously in the breadcrumbs and cook for 2-3 minutes per side or until no longer pink in the middle. Cooking time may vary depending on the thickness of the breasts so be sure to test. Remove cooked chicken from pan and place on a plate lined with paper towels.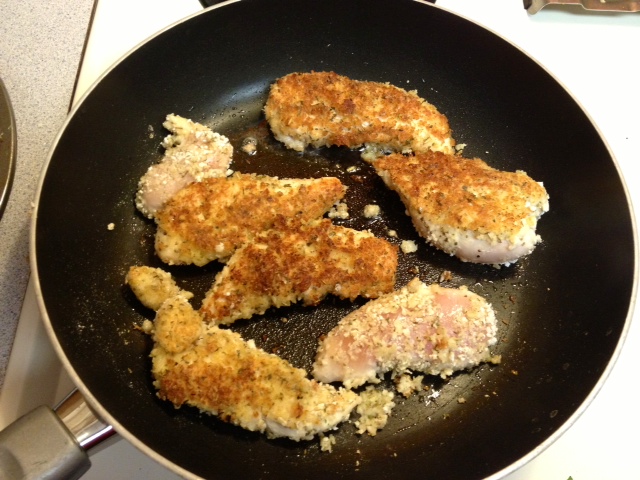 3. Using the same skillet you used for the chicken, sauté onion in the hot pan for several minutes. Add garlic and sauté an additional minute or so.
Reduce heat to low and add jar of pasta sauce and stir.
Note: Have some mushrooms or peppers sitting around and needing a good home? Feel free to throw them into the skillet when sautéing your onions. This is a very versatile dish and great for using up leftover veggies!
4. Place cooked chicken on top of the sauce and sprinkle with Mozzarella cheese. Cover pan to let cheese melt (2-3 minutes).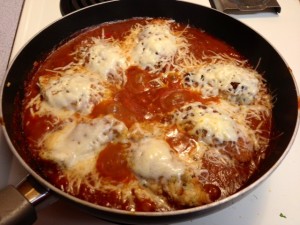 Serve sauce and chicken over your favorite pasta and dig in! You might also like to try with my awesome Pizzeria Garlic Knots!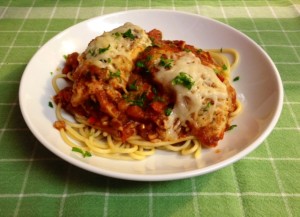 This recipe is so good that it instantly turns on full throttle pug manipulation.
See Also: Pizzeria Garlic Knots