Chicken Verde Enchiladas are a super easy recipe that is deliciously creamy, satisfying, and kid-friendly. This is my go-to recipe to whip up when a friend has a baby or I'm asked to bring a main dish for a potluck. It transports easily and freezes and reheats so well. It's also a great recipe for using up any leftover cooked chicken you have.
Chicken Verde Enchiladas
Makes 8 enchiladas

Ingredients:
2 tablespoons olive oil
1 small onion, diced
1 cup mushrooms, diced
4 garlic cloves, minced
1 1/2 cups chicken, shredded
3 cups cheddar cheese, divided
1/2 cup sour cream
1 (15.8 ounce) can Great Northern beans
1/2 teaspoon pepper
1 (10.7 ounce) can cream of mushroom soup
1 cup salsa verde (Find in the salsa aisle or Hispanic foods section of your supermarket)
8 flour tortillas, taco size
Directions:
Preheat oven to 350°F.
In a medium-high heat skillet, sauté onions and mushrooms in olive oil for several minutes, until softened. Add minced garlic and cook for 1-2 minutes and remove from heat. Set aside.
In a medium bowl mix together shredded chicken, 1 cup of the cheddar cheese, sour cream, beans, and pepper. Add the grilled onion and mushroom mixture and mix together. Set aside.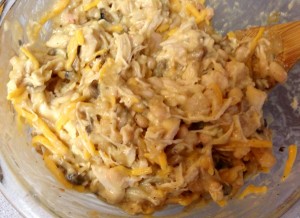 In another bowl, mix together cream of mushroom soup and salsa verde until creamy.
Spread a cup of the mixture onto the bottom of a 9×13 casserole dish.
Liberally fill each tortilla with the chicken mixture.
Roll up and place in the bottom of the casserole dish. Continue with remaining tortillas and filling mixture.
Pour remaining mushroom soup/salsa verde mixture all over the filled tortillas.
Top with remaining 2 cups of cheddar cheese.
Bake for 30 minutes or until cheese is bubbly and starts to brown.
Let cool for 10 minutes and serve.