My Dad and I were chatting the other day about favorite family recipes and my Mom's Reuben Ring came up. We immediately started reminiscing about that delicious recipe my Mom discovered at a Pampered Chef party she went to. It has all the amazing flavors of a Reuben sandwich—corned beef, tangy thousand island dressing, and sauerkraut—but instead of plain bread it's wrapped up in a flakey crust. There was even one hot summer night where several families met at a musical in the park and my Mom baked and carefully transported a Reuben ring for dinner in the park. We remembered it tasting better than ever before and being gobbled up in no time at all. Some recipes have a wonderful way of becoming family memories and my Mom's Reuben Ring is certainly one of them! Here is her adapted recipe originally created by The Pampered Chef.
Ingredients: 
3/4 cup thousand island dressing
4 ounces cream cheese, softened
2 cups sliced deli corned beef, chopped
1 (11 ounce) can sauerkraut, drained (Make sure to squeeze out any excess liquid)
1 1/2 cups Swiss cheese, shredded (reserve 1/2 cup for sprinkling on top prior to baking)
3 tablespoons fresh parsley, chopped
1 teaspoon garlic powder
1/2 teaspoon salt
1/4 teaspoon pepper
2 (8 ounce) cans crescent rolls
1 egg, beaten
Directions
Preheat oven to 375°F.
In a medium bowl, mix together cream cheese and thousand island dressing.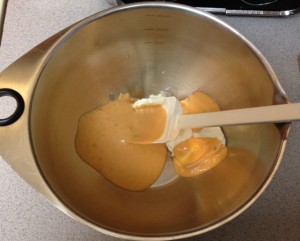 Add the corned beef, sauerkraut, 1 cup of Swiss cheese, parsley, garlic powder, salt, and pepper. Mix together until evenly blended. Set aside.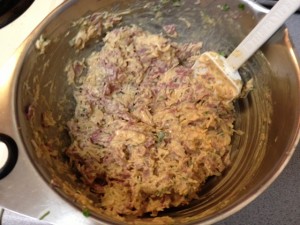 Spray a baking sheet with non-stick spray. To create the ring, I suggest laying a small bowl in the center of the baking sheet to use as a guide.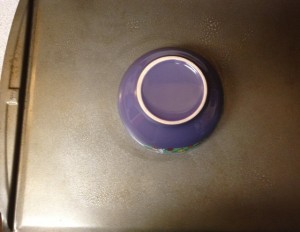 Remove crescent rolls from package and separate into triangles. Lay 8 of the triangles around the bowl with the base of the triangle laid along the bowl and the points of the triangle going outward.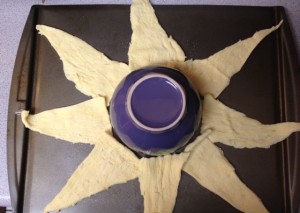 Take the remaining 8 triangles and lay in between the triangles.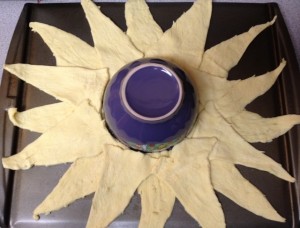 Remove the bowl and spoon the filling mixture along the thick interior.
Fold the points over and pinch on to the inside of the ring.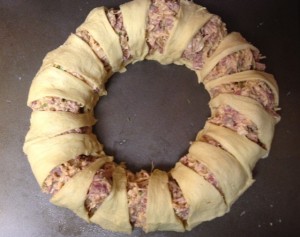 Brush with the beaten egg, sprinkle remaining 1/2 cup of cheese on top, and bake for 25-30 minutes or until the crescent dough is golden and crispy.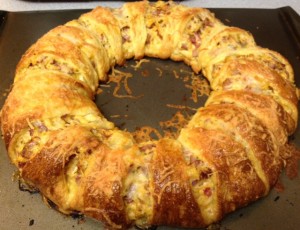 Now that looks pretty enough to hang on your door…or eat for dinner! 😛