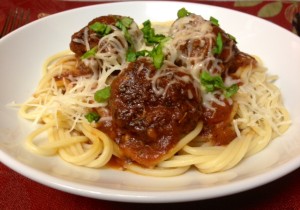 My boyfriend doesn't do a lot of cooking but one thing he makes that he has has completely mastered are his famous meatballs. They're actually adapted from his Italian Grandfather's recipe and they are killer good! He'll make a big batch of them and then we have plenty to make spaghetti and meatballs, and meatball subs, etc. Nothing beats one of these meatballs! So I was very happy when he offered to whip up a batch of his famous meatballs and even happier when he offered to jot down the recipe to be featured on my blog. I hope you'll give these a whirl and let us know what you think!
Tom's Famous Meatballs
Makes approximately 60 meatballs
3 ½ pounds of ground beef
6 slices of white bread
3 eggs
¾ cup grated parmesan cheese
½ cup Worcestershire sauce
¼ cup soy sauce
¼ cup Italian seasoning (marjoram, thyme, rosemary, savory, sage, oregano and basil)
1 tsp. garlic powder
1. Place the Parmesan cheese, Worcestershire sauce, soy sauce, Italian seasoning and garlic powder in a blender. Tear the bread into small pieces.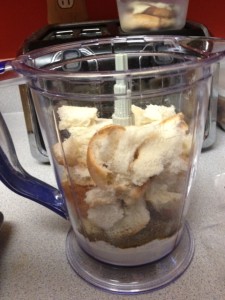 Add them to the rest of the ingredients in the blender and combine them until uniformly crumbled. You may have to use a spatula to push the bread towards the bottom as you go.
2. Place the ground beef inside a large bowl. Make sure the bowl is large enough to allow mixing the rest of ingredients into the beef, otherwise you'll risk making a mess. 😛 Add the eggs and the crumbled mixture with the ground beef.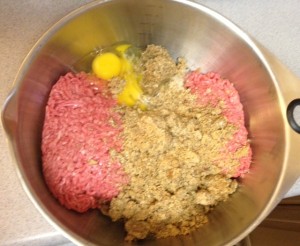 3. Now comes the fun part. Knead everything together with your hands until it reaches a pasty consistency (I use vinyl gloves to make cleanup easier).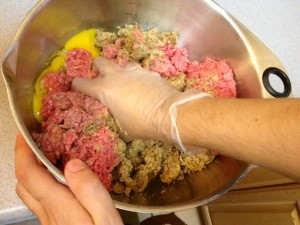 If it seems the mixture is a little dry and you're having trouble kneading the ingredients together, add a teensy bit of water (less than a teaspoon). I can't stress enough how a little bit of water will go a very long way. The last thing you need is a runny mess and end up with beef pancakes. 🙁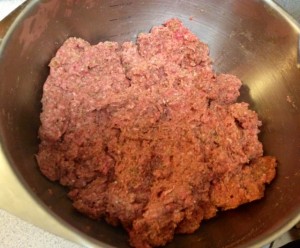 4. Using your hands, take the beef and begin forming it into golf-ball-sized meatballs.
It is very important to ensure they are all about the same size, so that they cook evenly. I will usually make one and use it as the model for the rest, adding or removing beef as necessary. If your meatballs are falling apart as you go, you may need to add 1 more egg to the mix.
5. Add oil to a large pan and heat on medium-high until the oil begins to shimmer. Place the meatballs in the pan, making sure to leave about 1 or 2 inches of room around them.
Let them brown halfway through and then flip them.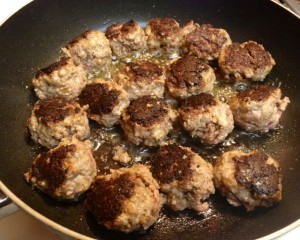 Remove from the pan and place them in your favorite sauce! 😀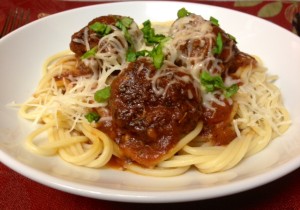 NOMNOMNOMNOMNOM,
Tom