Fall is truly my favorite time of the year. With Halloween and Thanksgiving just around the corner, sweaters are pulled out of closets, apples are plucked from trees, pumpkins displayed on the front stoop, and I'm whipping up batches of Halloween Crack. Wait, what?!?! Yep, you heard me right. Okay, it's actually a delicious party mix made of pretzels, M&M's, peanuts, and other ingredients, all tossed in a homemade toffee concoction but it's so decadent and addictive that it's now better known as Halloween Crack. You'll understand when you grab your first handful. Just trust me. This recipe was given to me by one of my Mom's friends who used to make it for parties and it was a guarantee that anyone who tasted it had to have the recipe. This is one of those fall recipes that can't be beat and should definitely make an appearance at your next Halloween or fall party!
Halloween Crack
Yields 16 cups
Important Note: You can swap out and adjust the ingredients to suit your taste. For example, instead of peanut butter sandwiches try using mini Oreos, instead of plain M&M's try peanut or almond. There are lots of fun and yummy options!
1 package miniature pretzels or pretzel sticks (11 oz)
1 package miniature peanut butter sandwiches (8 oz)
1 cup dry roasted peanuts
1 cup sugar
½ cup butter
½ cup light corn syrup
2 Tablespoons Vanilla
1 teaspoon baking soda
1 package plain M&M (10 oz)
1 package candy corn (15 oz)
Directions: 
1. In a large bowl, mix pretzels, crackers, and peanuts. Set aside. Preheat oven to 250°.
2. Using a dutch oven or a large pot with high sides, combine sugar, butter, and corn syrup. Bring to a boil over medium heat and boil for 5 minutes, stirring regularly.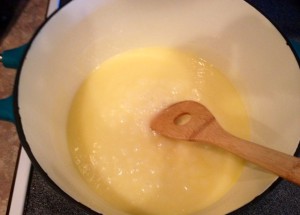 Remove from heat, stir in vanilla and baking soda. Note: The mixture will foam up, hence using a pan with high sides to prevent bubbling over.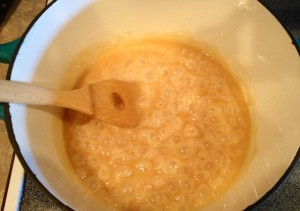 3. Pour hot mixture over the pretzels, crackers and peanuts and gently stir until coated.
Pour onto a large greased jellyroll or roasting pan.
4. Bake for 40 minutes, stirring every 12 minutes. Remove from oven and, while still warm, break apart any big chunks of the mixture. Toss with M&M's & candy corn.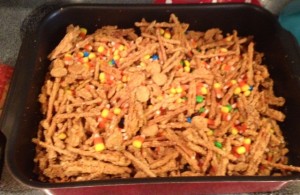 Allow mixture to cool completely before serving or store in an air tight container to enjoy later.