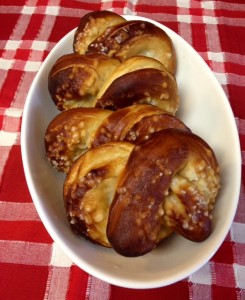 One of the few ways anyone can get me to step foot inside a mall is with the promise of a pretzel. I love fresh-baked pretzels cause they're soft, salty, and buttery and reminiscent of my childhood growing up in Germany. A few years back, I bought a pack of the frozen pretzels that you bake at home and was so sorely disappointed that I scoured the internet for recipes to make them myself and discovered that hey, they're not tricky at all! I just always assumed making your own pretzels was some ridiculous undertaking so never thought to try it. After trying a few recipes and tweaking here and there, this recipe is now my go-to.These are great for picnics, sporting events, or to pull apart and dip into soup or cheese sauce. You can even form them into rolls instead of pretzels for making pulled pork sandwiches.
**Directions for using either a bread machine or making by hand are included below.**
Soft Baked Pretzels
Makes 12 pretzels
Ingredients: 
Dough:
2 packets of active dry yeast (4 1/2 teaspoons)
1/2 cup white sugar
2 tablespoons honey
1 1/4 cups warm water
5 cups all-purpose flour
1 1/2 teaspoons salt
1 tablespoon olive oil
Brine Bath
1/2 cup baking soda
4 cups hot water
Topping
1/4 cup kosher salt, for topping
2 tablespoons melted butter
Bread Machine Directions for Dough:
1. Combine ingredients in the pan of a bread machine according to your machine's instructions.
2. Set to dough and complete cycle, allowing it to rise once.
3. Continue below "By Hand Directions" for next steps.
By Hand Directions for Dough:
1. In a small bowl, combine warm water, yeast, and one teaspoon of sugar. Mix together and let stand for 10 minutes. Yeast will activate and get frothy.
2. In a separate large bowl, combine remaining sugar and rest of dry ingredients. Make a well in the center and pour the yeast mixture and oil in. Mix to form dough and knead until smooth, approximately 10 minutes.
3. Spray a bowl with cooking spray or lightly oil, place the dough in the bowl, making sure to coat the whole ball with oil. Allow to rise in a warm place until doubled, approximately an hour.
Directions continued for either making "By Hand" or "Bread Machine":
4. Pour dough onto a floured surface and divide into 12 equal pieces. Using your hands, roll each piece into a long rope and form into a pretzel shape. Use a little bit of water to seal the seams together.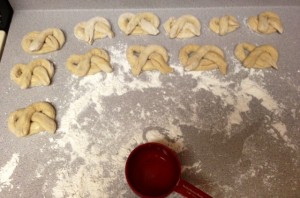 5. Preheat oven to 425°F. Combine baking soda and water in a large pan and place on high. When mixture is boiling, turn off the heat and, using a slotted spatula, submerge each pretzel completely and place on a greased baking sheet.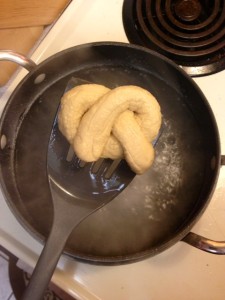 6. Sprinkle pretzels with kosher salt and bake in preheated oven for 6-8 minutes or until you dark golden brown.
Brush each pretzel with melted butter and transfer pretzels to a cooling rack. Serve warm.