I love waffles, whether for Saturday breakfast or even dinner during the week. I was sort of at a loss as to what I was craving for dinner so asked Tom to pick. He voted on my waffles, which instantly sounded great. Instead of my plain waffles (which are pretty awesome I have to admit) I decided to add a little pizazz and see what happened. I had some dried cherries and white chocolate chips on hand so decided to throw them in the batter. They turned out great! The cherries add a tartness that contrasts really well with the sweetness of the chocolate chips and syrup. So good and so going at the top of the list for future waffle nights.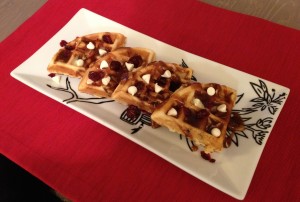 Cherry White Chocolate Chip Waffles
Ingredients:
2 eggs
1 1/2 cups warm milk

1/3 cup butter, melted
1/2 cup sugar
2 teaspoons vanilla extract
2 cups all-purpose flour
1 teaspoon salt
4 teaspoons baking powder
1/2 cup white chocolate chips
1/3 cup dried cherries
Directions:
In a large bowl, whisk together eggs, milk, butter, sugar, and vanilla extract. Sift in the flour, salt, and baking powder, and whisk until smooth. Add white chocolate chips and dried cherries.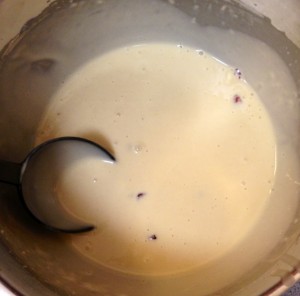 Pre-heat your waffle iron and spray with non-stick spray. Ladle batter onto the waffle iron.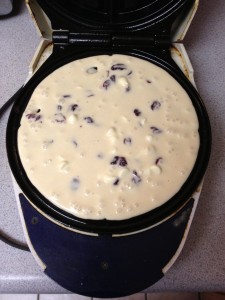 Note: Cherries and chocolate chips will tend to sink to the bottom so be sure to give the batter a good stir and scoop up from the bottom each time you load the waffle maker.
Cook waffles until golden brown and crispy. Serve plain or with butter and maple syrup.
Helpful Tip: Set your oven to the warm setting and place a cookie sheet in the oven while you're making waffles. Just pile up the waffles on the cookie sheet and then the whole stack will be nice and warm when it's time to serve.
This recipe is super easy and I often double it so I can freeze extra waffles. Just pop a frozen waffle in the toaster and you've got a quick and tasty breakfast.