Too often, I find myself staring at sad bananas that are way past their good-to-nom date. That's when I whip up a batch of banana streusel muffins. They are spicy, nutty and full of that yummy banana flavor that only sad bananas know how to bring to a party. The walnut streusal topping takes these to the next dimension of awesome. Did I mention they are wicked easy to make?
Banana Streusel Muffins
Makes 24 muffins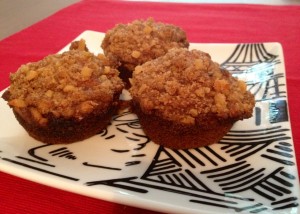 Ingredients:
1-1/2 cups white sugar
2 eggs
2/3 cup butter, melted
6 very ripe bananas
2 teaspoons vanilla
3 cups all-purpose flour
2 teaspoons baking soda
2 teaspoons baking powder
1 teaspoon salt
1/2 teaspoon nutmeg
1 teaspoon cinnamon
Streusal Topping:
1/4 cup all-purpose flour
2/3 cup packed brown sugar
1/4 teaspoon ground cinnamon
1/2 cup finely chopped walnuts
2 tablespoons butter, melted
Preheat oven to 375°F. Grease or spray a muffin tin.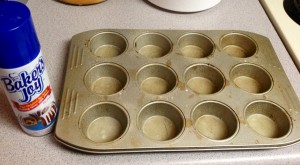 In a large bowl, mix together sugar, eggs, and melted butter. Add in bananas and mix until smooth. If mixing by hand, a potato masher is very helpful in mashing up the bananas.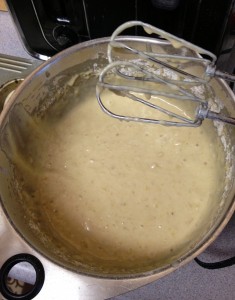 Add the flour, baking soda, baking powder, salt, nutmeg, and cinnamon. Mix until the batter is moistened and the dry ingredients are all incorporated.
Pour batter into muffin tin, leaving room for the streusal topping.
Streusal Topping:
In a small bowl, mix the flour, brown sugar, cinnamon, walnuts and butter together with a fork, until crumbly.
Scoop a small spoonful of streusal on top of each muffin.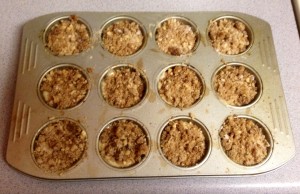 Bake in preheated oven for 18-20 minutes, or until a toothpick inserted into the center comes out clean. Allow muffins to cool completely before eating.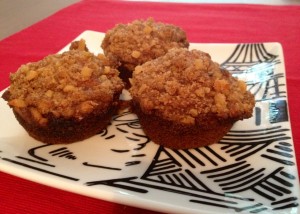 Yay for sad bananas!