The name says it all. What's not to love about hot fudge in the form of a cake? Trust me when I say you'll be tempted to grab a spoon and sit down in front of the couch with the entire pan and go to town. If you're having one of those days, awesome or terrible, this is the ultimate decadent dessert—rich, gooey, and pure chocolate decadence!
I originally saw this recipe in a magazine a few years ago and when I read through it thought it was a mistake. The ingredients and instructions don't seem to work. I was curious so decided to give it a try and boy was I wrong! So stinkin' good! I've tweaked it over time to make it even more chocolatey and hope you'll give it a try. This is the ultimate chocoholic's cake.
Decadent Hot Fudge Cake
Serves 8 (or 1 if it's a Friday night on your own)
1 cup flour
¾ cup sugar
6 tablespoons cocoa, divided
2 ounces unsweetened baking chocolate, melted (the better the chocolate, the better the cake! I go for Ghirardelli or Scharffen Berger)
¼ teaspoon salt
½ cup milk
2 tablespoons canola oil
2 teaspoon vanilla
1 cup packed brown sugar
1 ¾ cups hot water
Ice cream or whipped cream, optional
Preheat oven to 350°F.
In a bowl, sift flour, sugar, 4 tablespoons cocoa, and salt and mix until blended. Set aside.
In a large bowl, whisk together milk, oil, melted chocolate, and vanilla. Add flour mixture.
Note that it will appear quite dry and lumpy so I recommend mixing together with a potato masher or using the bread paddle on a mixer.
Transfer to a 9" square baking dish and spread batter out with a spatula.
In a small bowl, whisk together remaining 2 tablespoons cocoa, brown sugar, and hot water. Pour over batter but do not stir.

Bake 35-40 minutes.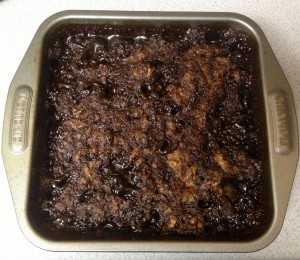 Serve warm with a scoop of ice cream or dollop of whipped cream.