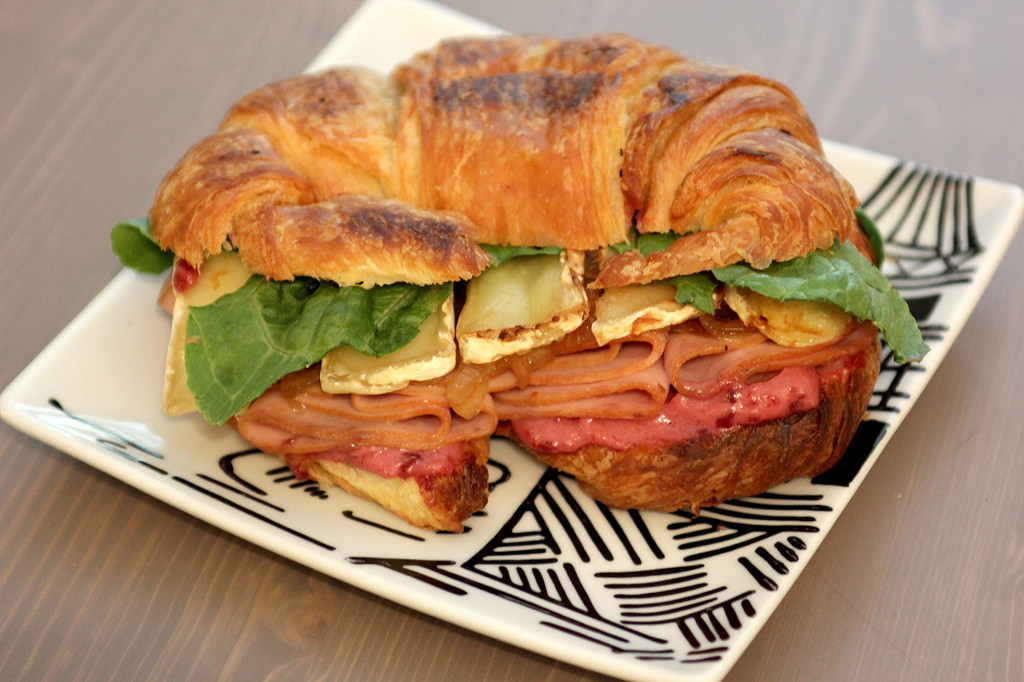 I was in the mood for a really gourmet sandwich to make at home and this was the result. It's pretty much the ultimate turkey sandwich and a great recipe to hold onto for after Thanksgiving. It features turkey, caramelized onions, melted brie, and cranberry mayo all squeezed between a buttery croissant. It's a ridiculously tasty sandwich!
Cranberry Gobbler Sandwich
Number of Servings: 4
Ingredients

2 tablespoons butter
1 large onion, sliced into thin rings
Salt and pepper
¼ cup jellied cranberry
¼ cup mayonnaise
4 large bakery croissants, sliced in half lengthwise
12 ounces Wisconsin brie, sliced
8 ounces romaine lettuce
8 ounces honey baked turkey, thick-sliced
Directions:
1. Heat a skillet over medium high heat and add 2 tablespoons of butter. Add sliced onions to the melted butter, add salt and pepper, and sauté for several minutes until caramelized. Remove onions and set aside.
2. In a bowl, stir together jellied cranberry and mayonnaise. Smear each croissant half with 1 tablespoon of cranberry mayonnaise. Place 2 ounces of turkey on bottom of each croissant. Add 3 ounces of Wisconsin brie on top of the turkey and add a spoonful of caramelized onions on top.
3. Place croissant top halves onto each sandwich. Grill each sandwich in a lightly buttered pan for 2-3 minutes per side, until croissant is golden brown and brie is melted.
4. Remove sandwiches from the skillet and carefully remove tops of each sandwich. Add 2 ounces of lettuce and then replace the top and serve.