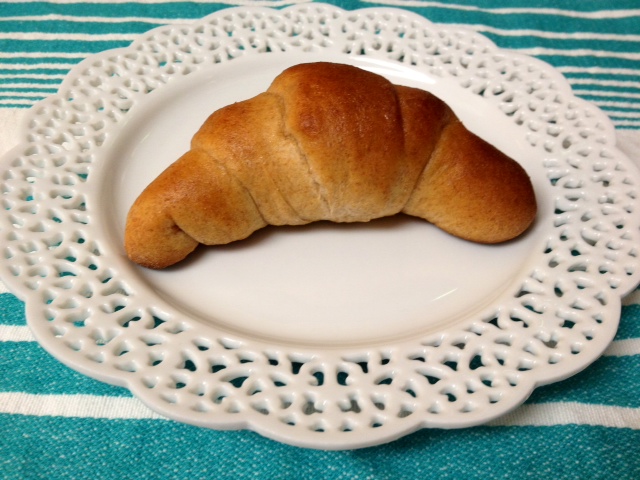 Bread baking is of my many passions. There's something magical about combining just a few simple ingredients, applying a little love, and transforming it into a loaf of crusty bread. I must have been a baker in another life cause I really could spend all day baking bread.
For family holidays and special gatherings, I usually make my homemade crescent rolls. They pair perfectly with ham and turkey or just a slathering of good jam. Instead of my traditional white, I've played with a wheat version which is actually lighter and more flavorful. I tend to shy away from most wheat breads, which I think often taste like cardboard, so if you don't typically like wheat then I will bet this recipe will win you over!
**Directions for using either a bread machine or making by hand are included below.**
Honey Wheat Crescent Rolls
Makes approximately 24 rolls
1/2 cup warm water
1/2 cup warm milk
1 egg
1/3 cup butter, softened
1/4 cup white sugar
1/4 cup honey
1 teaspoon salt
2 cups whole wheat flour (I highly recommend King Arthur)
1 3/4 cups all-purpose flour
1 (.25 ounce) package active dry yeast
1/4 cup butter, melted (for basting rolls when they come out of the oven)
1. Combine ingredients in the pan of a bread machine according to your machine's instructions.
2. Set to dough and complete cycle, allowing it to rise once.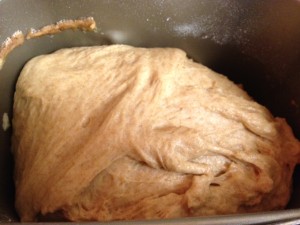 3. Continue below "By Hand Directions" for next steps.
By Hand Directions for Dough:
1. In a small bowl, combine warm water, yeast, and one teaspoon of sugar. Mix together and let stand for 10 minutes. Yeast will activate and get frothy.
2. In a separate large bowl, combine remaining sugar and rest of dry ingredients. Make a well in the center and pour the yeast mixture and remaining ingredients in. Mix to form dough and knead until smooth, approximately 10 minutes.
3. Spray a bowl with cooking spray or lightly oil, place the dough in the bowl, making sure to coat the whole ball with oil. Allow to rise in a warm place until doubled, approximately an hour.
Directions continued for either making "By Hand" or "Bread Machine":
4. Pour dough onto a floured surface and roll out into a large rectangle, approximately 1/4″ thick.
Using a pizza cutter, slice the dough into 3-4″ strips.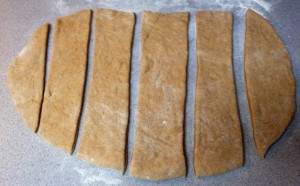 Cut the strips into small rectangles and then cut at the diagonal to form a triangle.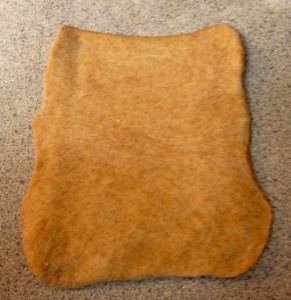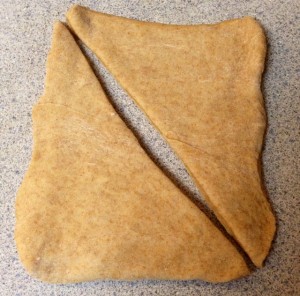 5. Starting with the base of the triangle, roll the dough up to the point.
Use a little bit of water to seal the top and then lay on a greased baking sheet.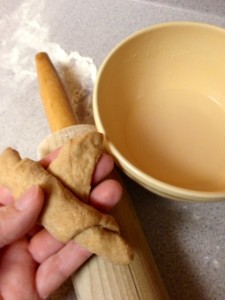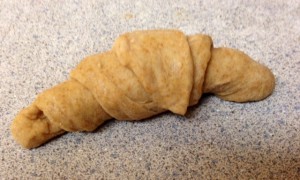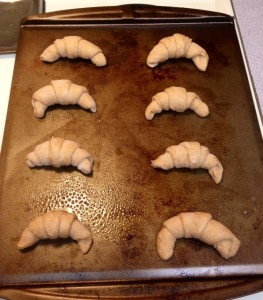 6. Allow the crescent rolls to rise in a warm place for 30 minutes to an hour.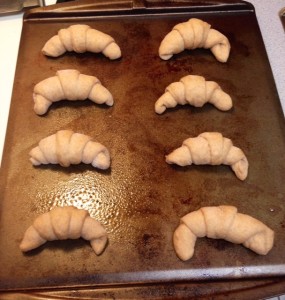 7. Preheat oven to 375°. Bake the rolls one sheet at a time for 9-12 minutes, or until golden brown. Helpful Tip: Since all ovens vary slightly, I strongly recommend baking one roll all by itself to determine your oven's exact baking time. Better to throw out one burned roll than an entire pan!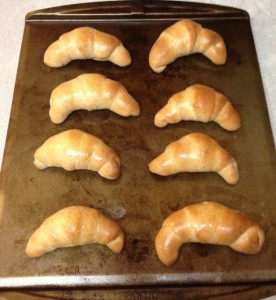 8. Baste the warm rolls with the melted butter and enjoy!