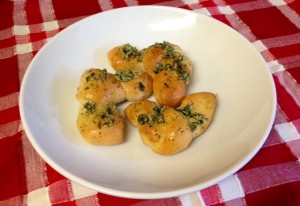 I love baking garlic bread to go along Italian dishes and these homemade garlic knots are my favorite. They're very simple, kids love to help with knotting the dough, and they taste just as good as any Italian restaurant or pizzeria's garlic bread and tons better than the frozen stuff. They also make a great appetizer when served with marinara for dipping. Warning: these disappear quickly so consider a double or triple batch. 🙂
I've included both the bread machine and by hand directions below.
Pizzeria Garlic Knots
Makes 24 knots
Dough:
3/4 cup warm water
1 packet active dry yeast
1 3/4 cups bread flour
1 tablespoon olive oil
1 teaspoon salt
1 teaspoon dry Italian seasoning
1 tablespoon sugar
Garlic Butter
4 tablespoons butter
4 cloves garlic, minced
1/4 cup parsley, finely chopped
1 teaspoon salt
Bread Machine Directions:
If using a bread machine, add the ingredients as recommended by your bread machine and set to dough setting. Continue with "Making the knots" (below):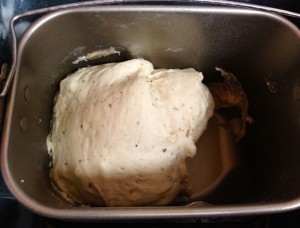 By Hand Directions: 
In a small bowl, add the warm water and sugar and mix. Add the yeast and let rest for 5 minutes. In a large bowl, whisk together flour, olive oil, salt, and Italian seasoning. Make a small well in the center of the four mixture and pour in the yeast water. Mix and then knead together for 5-10 minutes. Form the dough into a ball, lightly coat with olive oil, and place in a covered dish to allow to rise (approximately 1 1/2 hours).
Making the knots: 
After your dough has finished rising, grab a handful of dough at a time and roll out on a floured surface. Roll to a small rectangle, about 4 inches long and 1/2 an inch thick.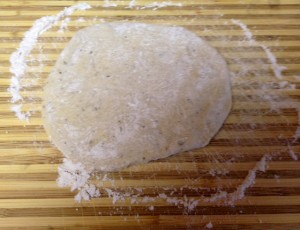 Using a pizza cutter, make 1 inch strips.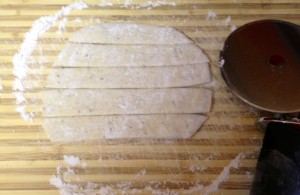 Take each strip and tie to make a knot.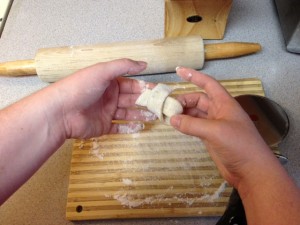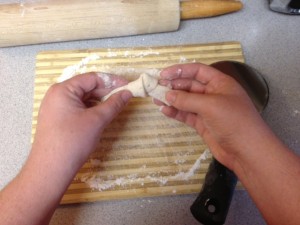 Lay on a greased baking tray and leave plenty of space in between so that the knots can rise a second time.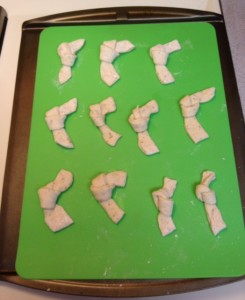 Cover pan of knots with seran wrapped sprayed with olive oil and let rise until doubled in size (about two hours).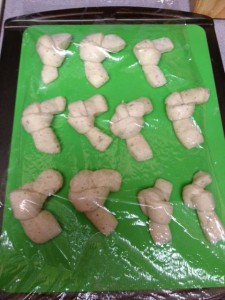 After knots have finished rising, preheat oven to 400°F.
Remove seran wrap and bake knots for 12 minutes or until golden brown. Remove from oven to cool.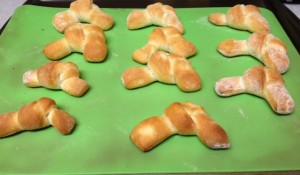 While knots are cooling, melt the butter in a medium saucepan and add garlic. Heat on low for 2-3 minutes then add salt and parsley and remove from heat.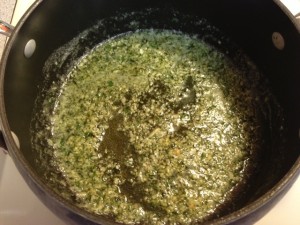 Generously brush garlic butter onto the still warm knots. I just pile all the finished knots onto one tray and brush away.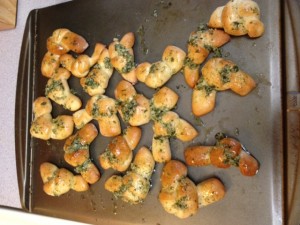 Enjoy!