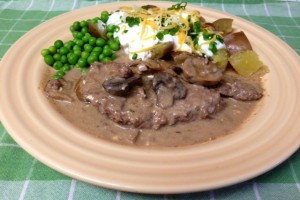 If you own a crock pot and are short on time then you're going to love, love, love this recipe for easy Steak Stroganoff. I threw it together one morning when I was rushing to get out the door and had maybe 10 minutes to prep everything. I just dumped it all in my crock pot and flew out the door. When I came home that evening I was shocked and amazed at how good it turned out. When I say good, I mean really stinkin' good! Tom kept saying over and over again, "Honey, this is amazing!" and all but licked his plate clean.
This is also a very economical meal! By using cube steak, a cheaper cut of meat, you save a bundle and the crock pot magically transforms this tougher cut of meat it into a melt-in-your-mouth delicious steak which your guests will swear was a Choice cut.
Crock Pot Steak Stroganoff
Serves 6-8

2 pounds cube steak
8 ounces sliced fresh mushrooms
1 medium onion, sliced
1 packet dry onion soup mix
1 packet dry mushroom beef soup mix
1 large can (26 ounce) cream of mushroom soup
1 cup water
3/4 cup sour cream
Instructions:
1. Place the steak in the bottom of the crock pot.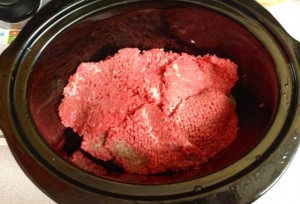 2. Layer sliced onions and mushrooms on top of meat.
3. In a medium bowl, mix together the dried soup mixes, cream of mushroom soup, and water. Pour over meat, mushrooms, and onions.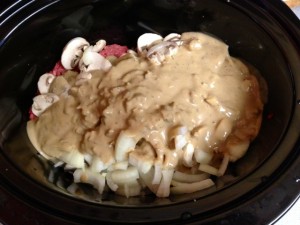 4. Turn on crock pot and set for 8 hours on Low or 4-5 hours on High.
5. When read to serve, turn off crock pot and stir in sour cream.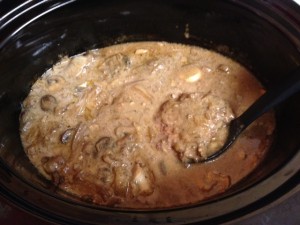 6. Serve over rice, boiled potatoes, or egg noodles. Enjoy!