I love having lunch at Olive Garden with friends to enjoy their delicious soups and salad. Their Pasta e Fagioli soup (similar to minestrone) is one of my favorites so it was a fun challenge to recreate at home. I found some great copycat recipes online which I adapted a bit but the twist on the challenge was to recreate it for the crock pot. The result is truly phenomenal and is an exact flavor copy of Olive Garden's version! I recently had a large group of friends over and served this recipe and they all agreed it was identical to Olive Garden's soup. There also weren't any leftovers…Boo!
Quick note: If you want to make a true copycat you'll need to use the ditali pasta. However, it can be a little harder to find and is also more expensive so I usually swap it out for fusilli or another small pasta.
Crock Pot Copycat Olive Garden Pasta e Fagioli Soup
Serves 6-8
1 pound ground beef
1 small onion, finely diced
2 carrots, julienned or shredded
4 stalks of celery, finely diced
4 cloves of garlic, minced
1 (15 oz.) can red kidney beans
1 (15 oz.) can great Northern beans
2 (14.5 oz.) cans diced tomatoes with Italian herbs
1 (28 oz.) can tomato sauce
1 (12 oz.) can V8 juice
1 tablespoon vinegar
2 teaspoons salt
1 tablespoons of Italian seasoning
2 teaspoons parsley
1/2 teaspoon pepper
At the end:
1/2 pound ditali pasta (you can also substitute with fusilli, macaroni, or any small pasta you like)
Freshly grated Parmesan cheese
Directions: 
1. In a large skillet, brown the meat. Drain off the fat and transfer the cooked hamburger to the bottom of the crock pot.
2. Pour the remaining items, except for the pasta and Parmesan cheese, over the hamburger.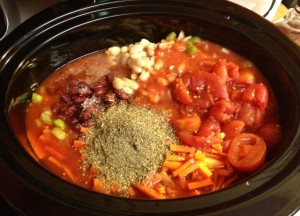 Stir everything together.
Cook on LOW for 7-8 hours or on HIGH for 4-5 hours.
3. During the last 30 minutes of cooking, add the dry pasta to the crock pot and stir to incorporate. Stir every ten minutes or so to make sure the pasta doesn't stick and that it can absorb enough liquid.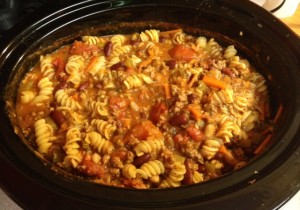 4. Pour soup into bowls and garnish with Parmesan cheese and serve along garlic bread. Enjoy!