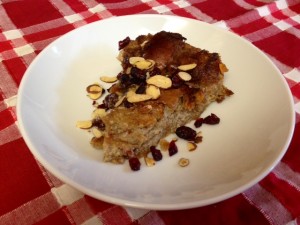 Bread pudding is one of those dishes that is so yummy and satisfying and great to serve any time of the year. I often make it for brunch, dessert, and holiday get-togethers. The thing I don't like about most bread pudding recipes is that they often require heavy whipping cream or half-n-half, which I never have on hand and frankly don't want to use because of the calories. However, after experimenting with a few recipes, I tweaked and tested out ingredients until I settled on this to-die-for winner. It really couldn't be easier and the addition of dried cherries, almonds, and white chocolate chips pair perfectly with the soft bread pudding. Trust me when I say that you'll love this bread pudding! And what a great way to use up stale or day old bread. If you're cooking for a crowd, consider doubling the recipe and serving in a 9×13 casserole instead.
White Chocolate Cherry Bread Pudding
Serves 12
Ingredients:
6 cups cubed french bread *You can use just about any type of bread as long as it's airy and not dense.
2 tablespoons melted butter
1/2 cup brown sugar
1/4 cup honey
4 eggs, beaten
2 cups milk
1 teaspoon ground cinnamon
1/2 teaspoon ground ginger
1/4 teaspoon nutmeg
1 teaspoon vanilla extract
1/2 cup dried cherries *You can also substitute with raisins or other dried fruit if you prefer.
1/2 cup white chocolate chips
1/2 cup sliced almonds
Directions: 
1. Preheat oven to 350°F and spray an 8″ square dish or 9″ round pie pan with non-stick spray.
2. Sprinkle half of the bread cubes in the dish and then cover with half of the cherries, white chocolate chips, and almonds.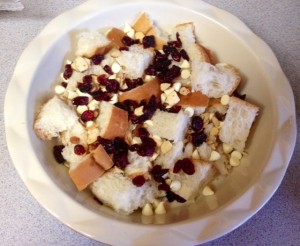 Top with remaining bread and then sprinkle remaining cherries, white chocolate chips, and almonds on top.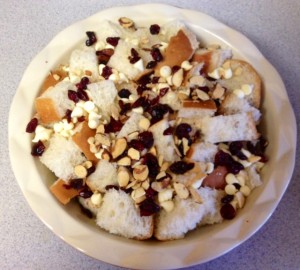 3. In a medium bowl, whisk together butter, sugar and honey. Add eggs and milk and mix until well incorporated. Mix in spices and vanilla extract.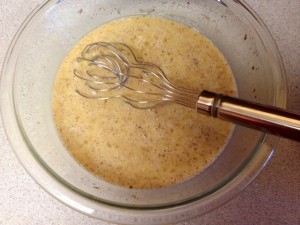 Pour liquid mixture over the bread, making sure all the bread is coated.
Use a spatula to press down tops of bread into the milk mixture.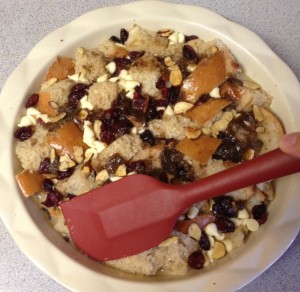 4. Bake for 45 minutes or until the bread is light and springy and not gooey in the center.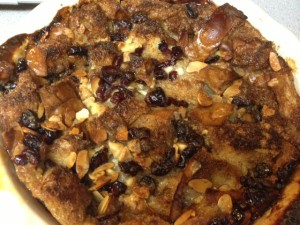 Allow to cool 10-15 minutes and serve warm. Enjoy!
For an added touch of decadence, serve with a scoop of vanilla bean ice cream. So good! 🙂