First off, these cherry pie bars are seriously good and super easy to make! When I whip up a batch of them I'm immediately transported into one of my favorite kitchens in the world—my dear friend Rosel's in Haßloch Pfalz, Germany. She lived in my neighborhood growing up and was my Mom's best friend so became like a second mom to me. She loved cooking and baking and nurtured those passions in me.
Ironically, this recipe is American and was featured in Taste of Home magazine. I brought several cooking magazines with me when I visited several years ago and I made these cherry bars for Rosel and her family. They all hailed it a great culinary triumph and begged for me to make them again and again while I was there.
So what makes these cherry pie bars so special? These bars are cakey and rich and spiked with delicious cherries and almonds. They really are heavenly! After telling Tom the story behind this recipe, I whipped up a batch for him and he said he totally understood what all the fuss was about. 🙂
Cherry Pie Bars
Ingredients: 
1 teaspoon salt
1 teaspoon vanilla extract
1/4 teaspoon almond extract
1/2 teaspoon lemon juice
3 cups all-purpose flour
2 cans (21 ounces each) cherry pie filling
1/2 cup sliced toasted almonds
Glaze: 
1 cup confectioners' sugar
1/2 teaspoon vanilla extract
1/2 teaspoon almond extract
2-3 tablespoons milk
Directions: 
1. Preheat oven to 350°F. In a large bowl, cream together butter, sugar, and salt until fluffy. Add eggs and beat well. Add extracts and lemon juice. Add the flour in gradually, mixing well.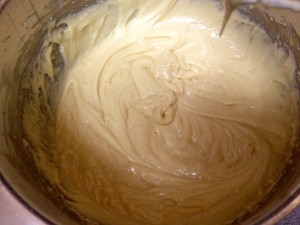 2. Grease a bar or jelly roll pan or, if you prefer thicker cherry bars, use a 9×13. Spread 3 cups of the batter onto the bottom of the pan, reserving the rest for spooning on top.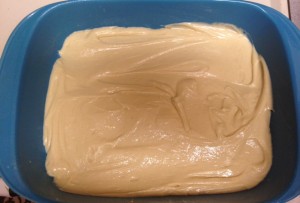 Cover batter with the cherry pie filling.
Sprinkle almonds over the top and then drop spoonfuls of the remaining batter on top of the of the filling and almonds.
3. Bake for 30-35 minutes or until cake part is golden brown. Note: If using a 9×13 the baking time will be longer.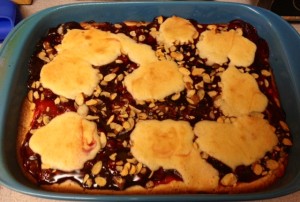 4. While bars are cooling, prepare the icing. Mix the ingredients for the icing in a small bowl and drizzle over the cooled cherry bars.
Enjoy!