If you've ever eaten at P.F. Chang's, you know you're always in for a treat. Everything on their menu is so stinking good. Unfortunately, the closest P.F. Chang's we have is about 45 minutes away so it's rare that we get to enjoy eating there. I love, love, love their Mongolian Beef so it was a happy day when I came across the recipe in one of Todd Wlbur's copycat books. While it was pretty close to spot on I have made some changes which I think make it taste more like the original and also make the recipe crockpot-friendly. The result is to die for! The beef is tender and tangy and the sauce it cooks in thickens up nicely to pour over rice or noodles. It's an easy crock pot recipe to put together in the morning and the smells you come home to are heavenly. I hope you enjoy the recipe as much as my family does! And if you like a little heat, try adding some Sriracha to the sauce. 🙂
Crock Pot Copycat P.F. Chang's Mongolian Beef
Serves 4
1 pound flank steak or london broil
1/2 cup cornstarch
4 large green onions, sliced into 1 inch chunks
1 teaspoons olive oil
1 teaspoon sesame seed oil
1 teaspoon freshly grated ginger
4 garlic cloves, finely minced
1/2 cup soy sauce
1/4 cup Hoison sauce
1/2 cup water
3/4 cup dark brown sugar
1/4 cup toasted sesame seeds (optional)
Green Onions, finely sliced for garnish
Directions: 
1. Turn your crock pot on low while you start preparing the ingredients. Spray the interior of your crock pot with non-stick cooking spray.
2. Cut the steak into thick stir-fry size pieces, making sure to cut against the grain of the meat.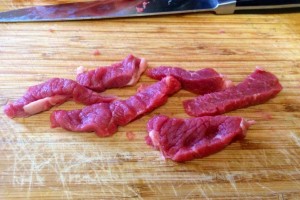 Dredge the pieces of steak into the cornstarch, making sure both sides are well coated.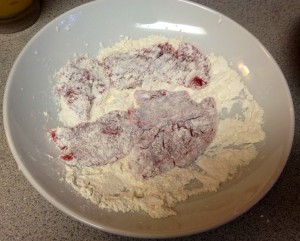 Place the coated steak in the bottom of the crock pot and discard any leftover cornstarch.
3. Layer sliced green onions over the steak.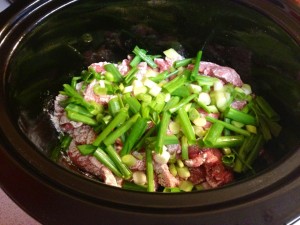 4. In a small mixing bowl, combine remaining ingredients and whisk until well blended.
Pour sauce over the steak. Cook on HIGH for 2-3 hours or on LOW for 4-5 hours.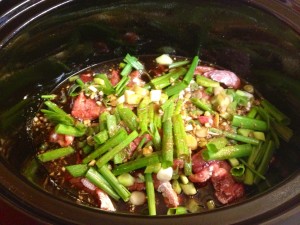 Serve over rice or noodles and garnish with green onions. Enjoy!