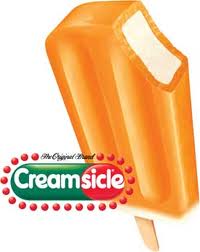 There's nothing quite like spending a day at the beach or by the pool and cooling down with an ice cold creamsicle. Those yummy orange and cream flavors of a frozen creamsicle were my inspiration for this cake which is loaded with orange flavor and topped off with cream and served chilled. It was a huge hit at my house and very reminiscent of a frozen creamsicle. If you love all things orange then you'll go nuts for this cake. Did I mention how easy it is?
Orange Creamsicle Cake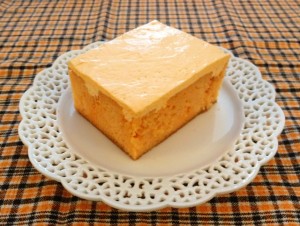 Ingredients: 
Orange Flavored Boxed Cake Mix  (And ingredients to prepare the boxed cake, which is typically eggs, vegetable oil, and water)
1 small box orange jell-o
1 cup boiling water
1/2 cup ice cold water
1 (14 oz.) can of sweetened condensed milk
1 (8 oz.) tub Cool Whip
1 packet Orange Creme Duncan Hines frosting creations (optional)
Directions:
1. Bake cake mix according to the directions on the box. Let cool for 15 minutes.
2. Using the end of a spatula, poke large holes all over the cake. (I don't recommend using a fork. That's what I did the first time and the jello didn't spread evenly).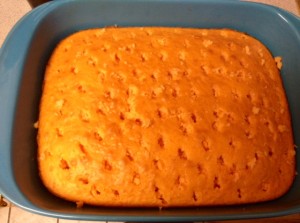 3. In a small bowl, mix jell-o with hot water. Add cold water and stir. Pour all over cake.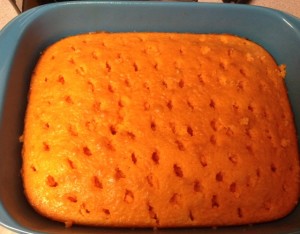 Then pour the sweetened condensed milk on top.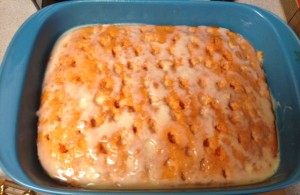 Chill for 3 hours.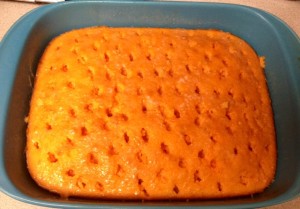 4. Mix the Orange Creme Duncan Hines frosting creation with the Cool Whip and spread all over the cake. Serve chilled.