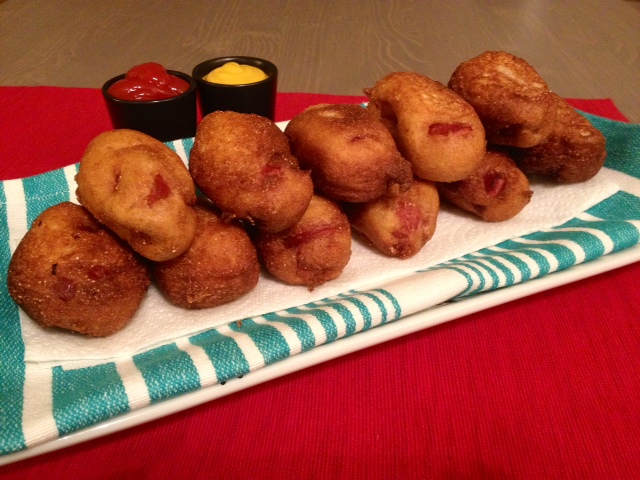 If you crave state fair corn dogs the way I do then you'll love this recipe for mini corn dogs. The batter is sweet and crisps up beautifully so you get that perfect crunch with every bite, something that is sadly missing from the frozen brand. This is a great summer treat that the kids will love and is also a fun recipe idea for a baby shower, summer picnic, or family movie night. 
Mini Corn Dogs
Makes 16 baby corn dogs
Ingredients: 
1 (8 ounce) package hot dogs
Approx. 1/4 flour for dusting hot dogs
1/2 cup cornmeal
1/2 cup flour
1/4 teaspoon salt
dash black pepper
1/4 teaspoon paprika
1/4 teaspoon chili powder (optional)
1/4 cup white sugar
2 teaspoons baking powder
1 egg
1/2 cup milk
Approx. 2 cups vegetable oil for frying
Directions: 
1. Dry hot dogs with a paper towel and cut them in half. Sprinkle 1/4 cup of flour on a plate and roll the hot dogs in the flour, shaking off excess. This will help the batter stick to the hot dog!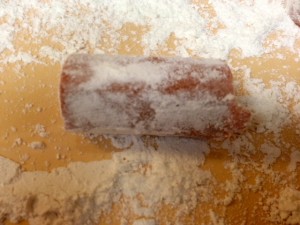 2. In a medium bowl, combine cornmeal, flour, salt, pepper, paprika, chili powder (optional), white sugar, baking powder, egg, and milk and whisk until batter is smooth.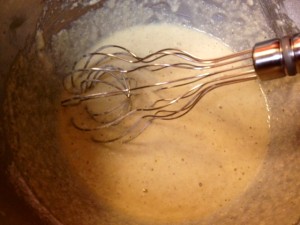 3. Preheat oil in a deep saucepan. You'll need the oil to be about an inch high in the pan. Roll hot dog halves in the batter and gently shake to remove excess. Fry in hot oil for 2-3 minutes (turning halfway) or until nicely browned.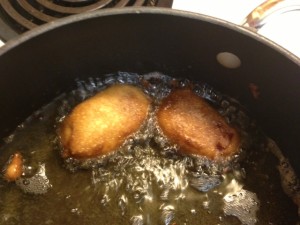 4. Remove to plate lined with paper towels to drain off excess oil.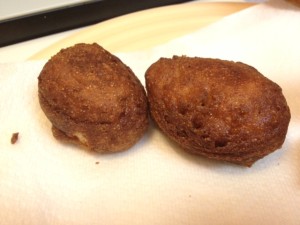 5. Let corn dogs cool for a few minutes and then serve with mustard and ketchup for dipping. Bet you can't have just one! 😉