Ever find yourself making pancakes or waffles only to discover you are completely out of syrup? Don't sweat it! Making your own homemade syrup is simple, economical, and a lot tastier than the store-bought variety! I've been in a Christmas-ey sort of mood and this cinnamon and almond syrup makes me want to pull out my old fuzzy sweaters and curl up in front of the fire with a cup of cocoa and a good book. It's a really simple recipe that I whip up while I'm making pancakes or waffles and any leftovers store really well. Helpful Tip: Whenever I make homemade pancakes or waffles, I double or triple the recipe so I can freeze leftovers to pop in the toaster for quick breakfasts. Drizzled with this amazing syrup, you'll be in the best holiday mood for months to come!
Cinnamon & Almond Syrup
Makes 1 cup
1/2 cup white sugar
1/2 cup packed brown sugar
2 tablespoons all-purpose flour
1/2 teaspoon ground cinnamon
1/4 teaspoon salt
1 teaspoon vanilla extract
1 cup water
1/2 cup sliced toasted almonds
Combine all of the ingredients, except for the almonds, in a medium sauce pan.
Bring to a rolling boil, stirring continuously.
Continue stirring for a few minutes until mixture thickens to a syrup consistency.
Remove from heat and add almonds.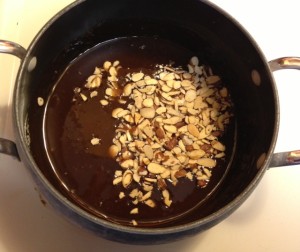 Cool 5-10 minutes before serving over your favorite pancakes or waffles.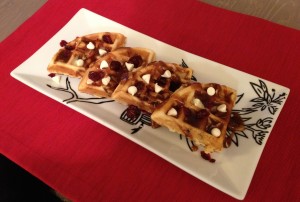 Looking for more breakfast ideas?
Don't forget to subscribe to receive free recipe updates delivered right to your Inbox!