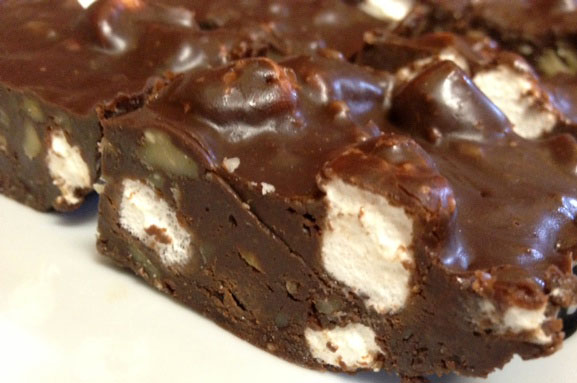 I'll be honest, I'm not a huge fan of fudge. I find that it's often either way too rich or way too sweet. All that changed when a friend introduced me to this amazing fudge a few years ago. She was whipping up several batches to mail off to friends and family at Christmas and I happened to stop by at just the right moment. I lent a hand with the fudge factory and was rewarded with a plate to take home. I remember taking that first tentative, teeniest of bites and then proceeded to shove the whole piece into my gob as fast I could get it in there. This isn't fudge. It's crack. Holiday crack. It's smooth rich chocolate is studded with nuts and marshmallows which go together so well that even the pickiest of fudge-eaters are happily brought over to its dark side. Now I'm the one who includes this delicious fudge in my Christmas cookie tins. Just be sure to always set aside a few squares for yourself or pop in the freezer for a rainy day. Did I mention how easy this fudge recipe is? All done in the microwave and prep time is 5 minutes or less!
This recipe was adapted from a NESTLÉ TOLL HOUSE recipe.
Rocky Road Fudge
Ingredients: 
2 cups semi-sweet chocolate chips
2 teaspoons vanilla extract
3 cups miniature marshmallows
1 1/2 cups coarsely chopped walnuts or peanuts
Directions: 
1. Line a 9″ square baking pan with foil and spray with non-stick cooking spray.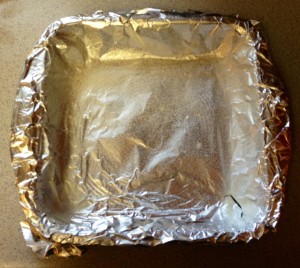 2. In a medium microwave-safe bowl, combine chocolate chips and sweetened condensed milk.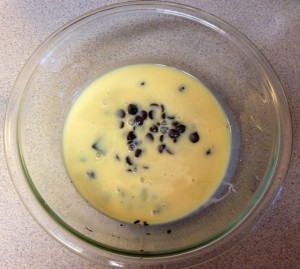 3. Microwave for 1 minute and stir. Since microwaves vary, it might be necessary to microwave for 10-15 seconds then stir and repeat as necessary until it's nice and smooth.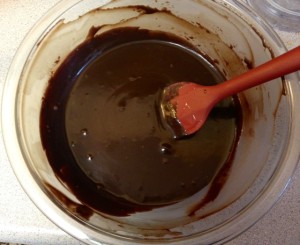 4. Stir in vanilla then fold in marshmallows and nuts.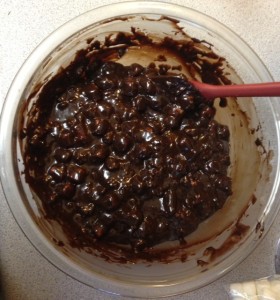 5. Spread mixture into greased pan and press flat with spatula.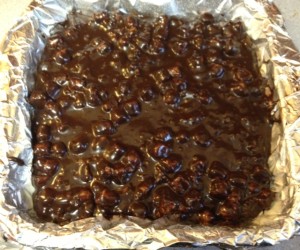 6. Refrigerate for at least 2 hours or until the mixture has hardened. QUICK NOTE: If you're in a hurry you can also pop the pan in the freezer to help speed it up.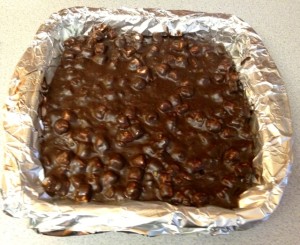 7. Lift foil from pan and use a pizza cutter to cut into small squares. Enjoy!