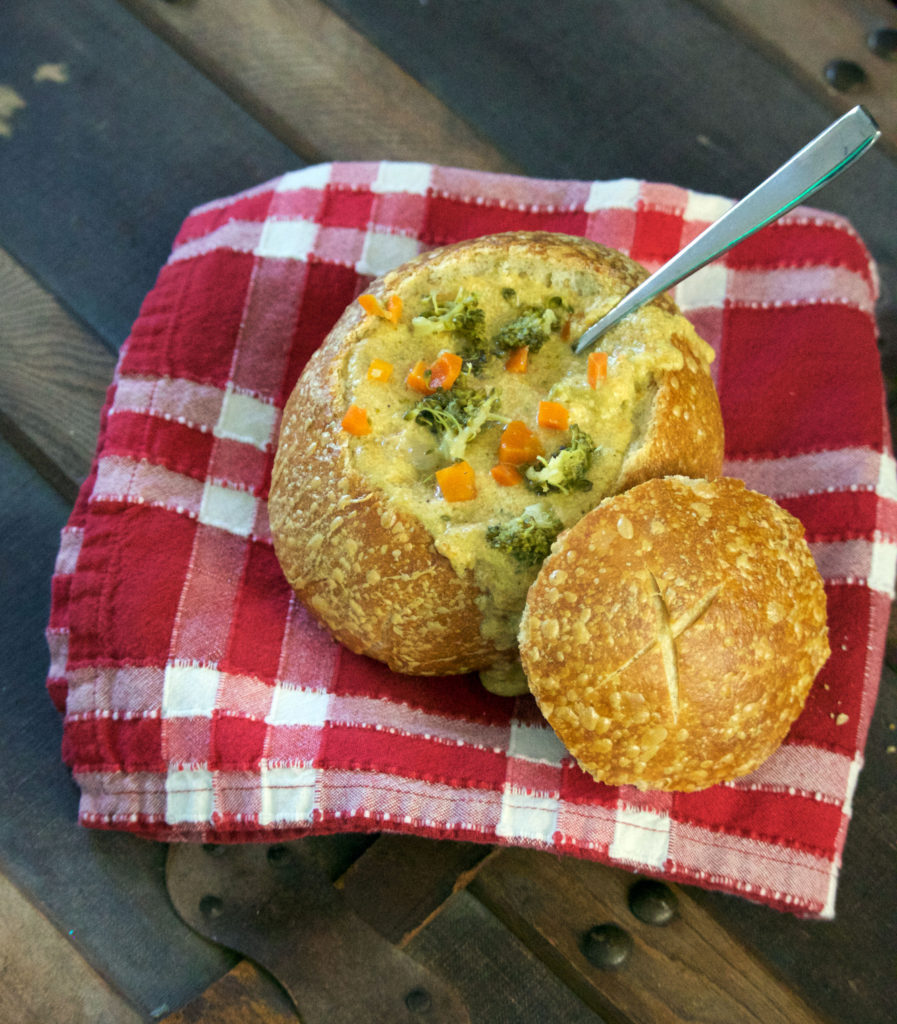 As soon as the leaves start to turn and that delicious crisp bites the air I start dreaming of soups, stews, and chilis. A number of years ago, my best friend and I got together and craved some Panera Bread Broccoli Cheddar soup but wanted to make it at home. We scoured the internet for recipes and found one that sounded great so we gave it a whirl. The recipe was full of heavy cream and butter so we trimmed it down and crossed our fingers. We were both shocked and delighted at the result: Amazing Panera Bread Broccoli Cheddar Soup that was every bit as good as from the restaurant. We've both made our recipe many times over the years, sharing it often with friends and family. More recently, I wanted to change the recipe again, this time making it a no-fuss crock pot version. This version is just as bit as good and makes life so much simpler by dumping everything in and setting the crock pot on low. You come home to a delicious pot of home made Broccoli Cheddar soup, without the extra calories or the bill! You can still accept tips from your family, though. 🙂
Crock Pot Copycat Panera Bread Broccoli Cheddar Soup
Serves 4-6
***This is a GREAT "dump in the crock pot and run out the door" recipe. When making this recipe, I will often buy shredded carrots and bagged pre-cut fresh broccoli florets to make this recipe even quicker and save on chopping.***
1/2 lb (about 3-4 cups) fresh broccoli, roughly chopped
1 small onion, roughly chopped
3 medium carrots, roughly chopped
2 garlic cloves, roughly chopped
2 cups chicken stock
1/2 teaspoon nutmeg
1 teaspoon salt
1/2 teaspoon pepper
1 pint (2 cups) fat-free half-and-half (If you really want the real thing, go for it, but fat-free tastes just as good in this recipe and that means you can go back for seconds!)
16 ounces shredded sharp cheddar cheese
Directions: 
1. Place the broccoli, onion, carrot, and garlic in the bottom of a large crockpot. Pour chicken stock over the veggies. Add the nutmeg, salt, and pepper and stir.
2. Set the crock pot to LOW and cook for 6-8 hours or HIGH for 3-4 hours.
3. Cream the soup. The easiest way is with an immersion blender but you can also transfer to a blender and then transfer back to the crock pot. If you prefer a more chunky soup, you can also use a potato masher so don't let not having a blender or immersion blender stop you. You are dealing with hot liquids so be careful!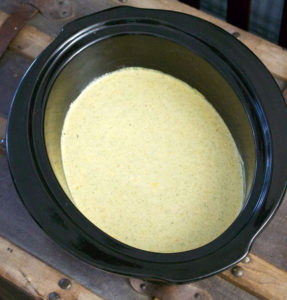 4. Immediately prior to serving, add the half-and-half and shredded cheese and stir. Allow the cheese to melt and garnish with extra cheese and serve. Yum! My family loves this recipe paired alongside my garlic knots or honey wheat crescent rolls or served inside a bread bowl.
Looking for other great copycat or crock pot recipes? Be sure to subscribe to my blog for the latest recipes or see a few of my favorite previously published fall and winter recipes below: