With 4th of July just around the corner, I thought it would be fun to take a spin on the traditional poke cake and make it a little more patriotic. Poke cake's are very easy and great for hot summer days. They involve baking a cake from a box, poking holes all over the cake, pouring jell-o all over the cake, and chilling it in the fridge for a few hours. You can use pretty much any kind of cake mix and jell-o flavor so it's easy to mix it up and have fun with it. The result is so yummy and since the cake is nice and chilly it is so refreshing after a long day in the heat.
NOTE: This cake is super simple but does take several hours for the jell-o to chill so plan to make in the morning or a day ahead of time.
Ingredients:
1 white cake mix (And ingredients to prepare the boxed cake, which is typically egg whites, vegetable oil, and water)

1 pint blueberries
1 small box strawberry jell-o
1 cup boiling water
1/2 cup cold water
1 8 oz. tub Cool Whip
1 16 ounce container strawberries
Directions: 
1. Prepare cake mix according to the directions and pour batter into pan. Sprinkle with blueberries, reserving a handful for the "stars" in the the flag. Bake cake according to directions on box.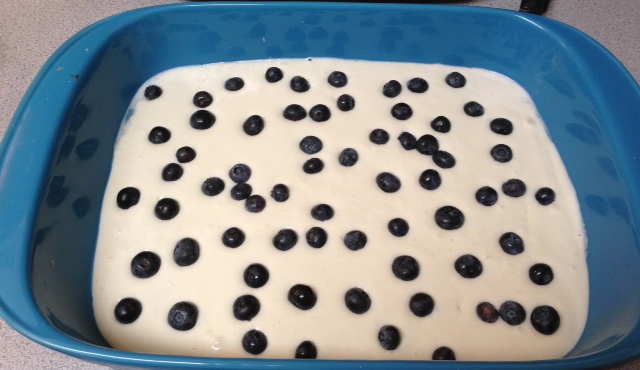 2.  After cake has cooled for 15 minutes, take the end of a round spatula and poke holes all over the cake. (I don't suggest using a fork. That's what I did the first time and the jello didn't spread evenly).
3. In a small bowl, mix jell-o with hot water. Add cold water and stir. Pour all over cake. Chill for 3 hours.
4. Set aside several strawberries for your flag (about 1 cup). In a food processor or blender,   purée remaining strawberries. Spread evenly over the cake.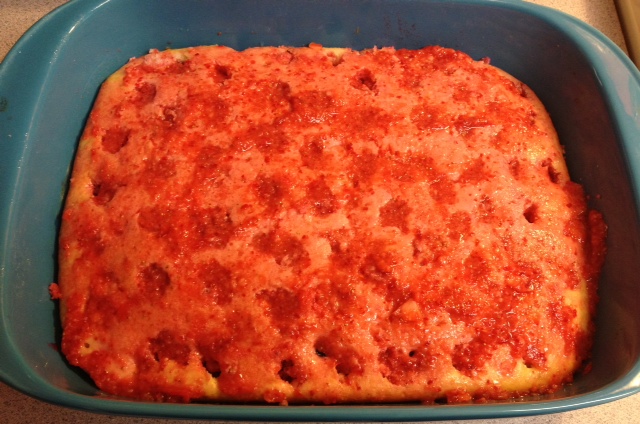 5. Slice remaining strawberries thinly. Frost cake with Cool Whip and using remaining blueberries and strawberry slices, decorate cake as an American flag, using blueberries for the "stars" and strawberry slices as the "stripes".
Happy 4th of July!